I've had people ask me how I do it all. I'm not sure what "all" they are referring to, because I definitely don't do it all! I can show you many areas of my home and life where "all" is not done! I have, however, established some habits in my life over the course of many years and by God's grace that help me have a productive, God-honoring day.
I enjoy learning about how other people live. I love to be inspired or motivated to make changes that will improve me as a person as well as form me into the person God desires me to be.
You may have a beautiful morning routine that works for you and prepares you for your day. Or perhaps, you are struggling to figure out how to best create a morning routine that is less chaotic and maybe a bit more productive and helpful to propel you into the rest of your day.
Recently, I have added and deleted a few things in my morning routine that have made an enormous difference in what I am able to accomplish in my day. l invite you in to my morning. Perhaps you have other suggestions to share with me. Or maybe there is something I share that will inspire you to make a change in your morning routine.
I get up when my alarm goes off.
It was one of my sons that told me that you miss out on important sleep cycles if you allow yourself to hit snooze multiple times. Sleep is important to me, so I've decided to set the alarm for when I need to get up, and then do it. For me it is 4:55 am.
I don't check my phone.
I used to have the habit of checking my phone as soon as I roll out of bed, just to see if there were any important message I needed to read or notifications I should check in to. I realized precious minutes were wasted when I was doing this, because you know how it is, one little message can lead to a rabbit trail on that little device.
I don't get up at that hour to waste precious minutes. Whatever is on my phone can wait. I also don't want to greet the world before I greet God. He needs to be the first one I talk to in the morning.
I make my coffee.
Ok, this hasn't changed. This has been a constant morning routine since I realized how nice it was to get up before my littles. I love to have a peaceful, quiet morning before the whirlwind of the day begins. However, having a little something to lift the fog of grogginess helps! Here is my FAVORITE coffee. It is roasted local to me as well as organic and fair trade.
I do 25 push-ups.
This habit just started this week as I joined a push-up challenge. I agreed to do 100 push-ups a day. I decided 4 sets of 25 throughout my day would be a way to fit this in, so I get my first set in while my coffee is brewing. This really gets the blood pumping and energizes me a bit more than just the coffee. I am now more alert to begin my time with the Lord.
I drink a glass of water.
This seems sort of simple. I almost didn't add it. However, I didn't always do this. I am now making a conscious effort to drink more water, and when I start out the day with a full glass, I am off to a good start.
Drinking more water has kept me healthier. I used to get several colds during the winter. Since I have made it a point to get in lots of water, I have hardly gotten sick. Last year I did not have one cold, and this year I did have one bad cold, but I was able to recover fairly quickly and have not been sick since. There are other factors than just water, but I know it is a huge part to good health!
I take 10-15 minutes to write in my prayer journal.
I used to be sporadic in writing in my journal, although consistently sporadic. I decided to make this a daily practice, and begin my writing with, "Thank you Lord for…" before I dig in and pray for the concerns, worries and struggles on my heart. I thank the Lord for something from the previous day. It is amazing how the habit of gratitude has changed my perspective for the upcoming day.
Thank you mom for inspiring me to start this practice of a gratitude journal! I also have a little notebook of prayers I write down for my husband, kids, family members and friends that I try and pray through.
I open my Bible to study, learn and apply.
This is also that something that hasn't changed. God increased my hunger for His Word shortly out of college and I joined a Bible study, and haven't stopped. The Bible study I am involved with, Bible Study Fellowship, includes lessons for each week. I always know what I am reading that day, and there are questions to make me ponder, think and apply what I am studying.
During summer breaks, I will pick a book of the Bible to study. I read, reflect and write what I am learning. For me, writing down what I am learning solidifies it in my brain. There is something that is deeply connected to my pen and my brain.
This has been so good. I love what she has to say and so much of it resonates with me and helps me with the struggles I have experienced while on this fast. To learn more about why I chose to do this fast, you can read this post. I highlight a few points that mean the most to me in the day's reading, and then share one of those with the group of women who are doing this fast with me. Again, writing it out is so helpful! This is also when I do a quick check of my phone before the rest of the morning gets underway.
The whirlwind begins….
It's off to do farm chores, pack multiple lunches, prepare breakfast and get the kids and husband off to work and school. This is honestly a very crazy hour and a half, no matter how prepared I am! I am trying to enjoy the hectic time of finding the lost shoe, homework papers that were "just here and suddenly gone", and of course clean, matching socks, that somedays just clean is what they get, and they better be happy about that! I know these years go by too fast, so I'll take a little hectic right now.
Schedule out the rest of my day.
Once the house is quiet again, and the outdoor chores are complete. I sit down and write a list of everything that needs to be done that day, as well as other tasks I would like to complete. After writing everything down that needs to get done, I prioritize it. I am reading the book, "Eat That Frog". Maybe you've read it, it has been out for awhile, but it was just brought to my attention recently.
After the first chapter I realized how much I procrastinate projects or tasks that aren't very fun. The author uses the theory that if the worse thing you must do in a day is eat a frog, then do it first and just get it over with. That way, at the end of the day, at least you know you ate that frog.
So after writing down my list of to-do's, I put the most important, even if they aren't my favorite things, at the top. I schedule everything out in a time frame. I estimate how long each project will take and then try to stick to that time frame. This way, it keeps me from being sidetracked – which is way too easy for me to do!
Your day will be different, that's ok!
You may be in a completely different season of life or you may have other important things you do in the morning. That's ok. I'm not here to say this is how to run your morning, I just want to share what I do. Maybe, there is one thing you could change in your morning routine to make it work best for you! God gives us each day as a gift. I want to make the most out of those gifts!
I'd love to hear what makes your day great! Comment below!
Free Resource
I have a friend and fellow blogger at Marriedtothefarm.com, that has created a wonderful resource to help you survive your day. Just click here to check it out.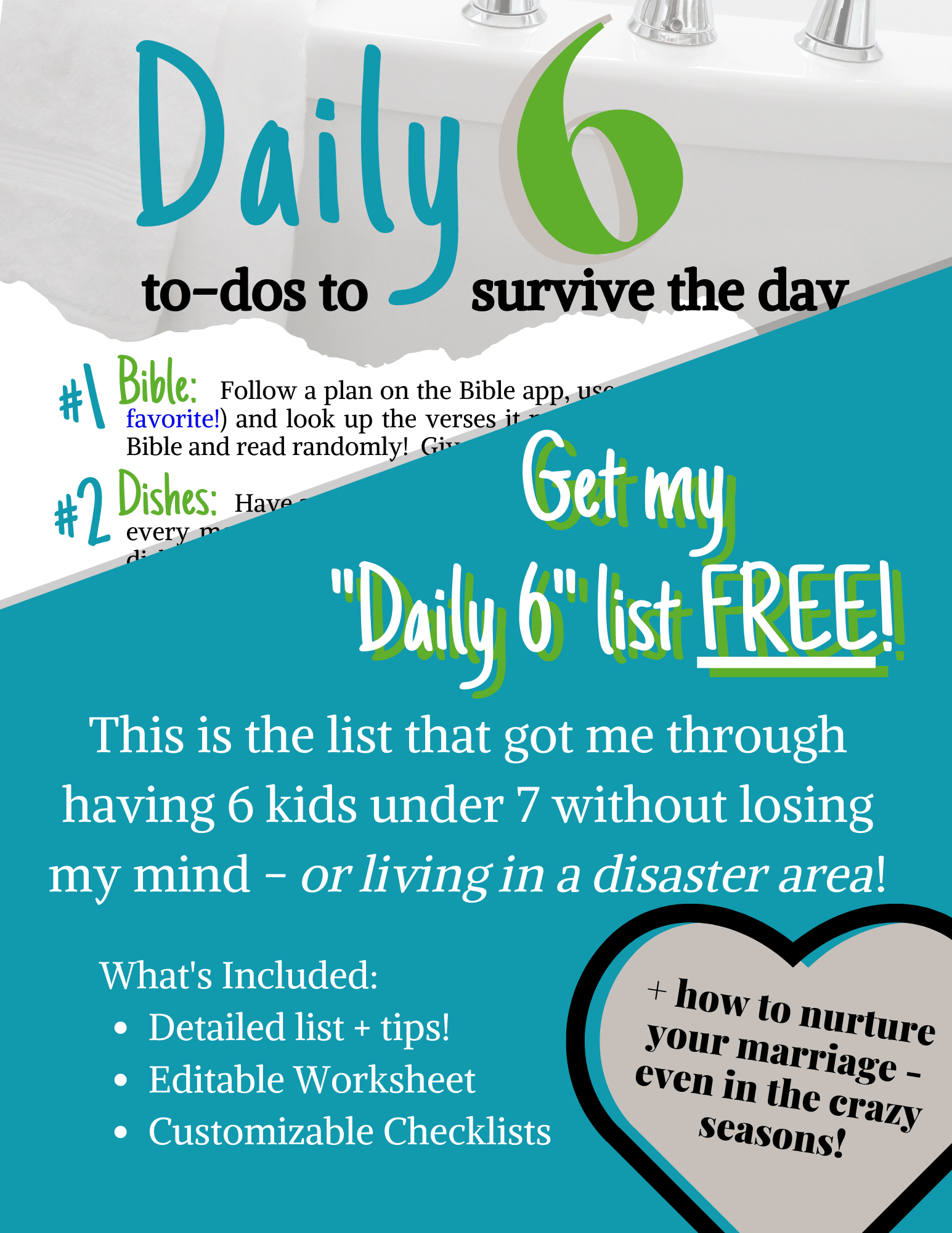 New Digital Resource!
I have a great new resource God helped me create as a digital download to help you pray effectively for the children in your life. Check it out here.